Biography
Edit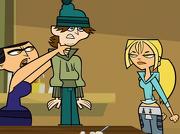 In
Welcome To Camp Reloaded, Part 1
, Not much was shown or heard of Zeke.
In Welcome To Camp Reloaded, Part 2, he got in a fight with Cody. Sierra then joined the fight by punching Ezekiel. Ezeiel then made out with Sierra. He also asked her out, she then said "EEW, NO" and Ezekiel cussed.
In Camping Out Doors, Ezekiel later was acting as dumb as ever and DJ said he needed help so he would help him find his cool. Ezekiel is now refferred as "Zeke" because of this and is slowly finding his way back up.
In Treasure Hunting, Zeke Got Shocked. and almost everyone wanted him out... he tried to make an alliance with sierra but she said no.